I honestly want to be best friends with this couple. Not only is their engagement session through the roof adorable but their rehearsal that followed is far more gorgeous than most weddings we've come across. Plus they own a fab boutique in Boston called Flock; a must for all you Beantown dwellers. Told you they were awesome. And we get to journey full circle with them from engagement to rehearsal and right on through to their wedding today. If you think this is amazing, just wait until you see the BIG day. Utterly and completely beyond and captured in a way that only Jose Villa can capture. But first, we're getting cozy with this easy, approachable Vermont dinner layered with jazzed up hay-bales, gourmet comfort food and fireside chats crafted by Moon Canyon Design + Foret Bespoke Floral + Sierra Knot. Oh and be sure to check out the full gallery. It's a happy, happy place to be.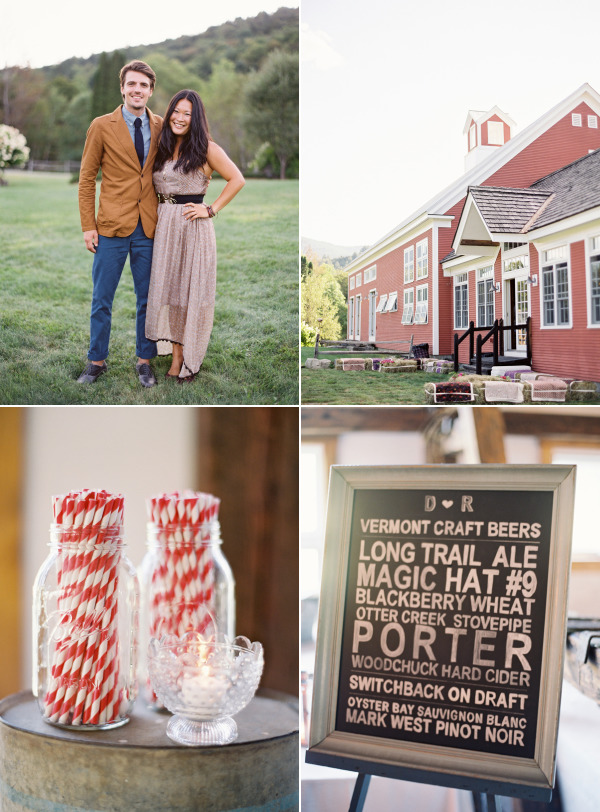 And now for the film from the ever lovely Joel Serrato. A match made in post heaven…
From Moon Canyon Design… Initial inspiration for both the wedding and the welcome dinner came from New England fall and Riverside farm.  At the welcome dinner we wanted the decor to embody the look of a fun farm wedding.  Rustic farm tables, embellished craft paper place-mats and festive lighting helped us achieve this feel.  Dani and Ryan wanted the welcome dinner to set a tone for conversation and camaraderie so we designed a space to foster this energy with family style dining tables filled with loosely arranged fall flowers and hay bail sectional seating throughout the grounds adorned with fun ditsy floral fabrics and bright, bold Zinnias.
Photography: Jose Villa | Venue: Riverside Farm | Rentals: 1888 | Catering: Cloud Nine | Event Design: Moon Canyon Design with help special help from Rose Mattos of Foret Bespoke Floral + Sierra Knot | Graphic Design (events): Elise Crevier | Invitations: Momental Designs | Filmmaker: joel serrato films | Custom Signage + Caligraphy: Sierra Knot | Cake: Cakes by Irene | Dress: Elie Saab | Groom's Suit: Rag & Bone | Makeup: Jeannie Vincent | Groom's Ring: Carrie Bilbo | Bride's Ring: M.Flynn | Bridesmaid Dresses: Custom Made by Bride's Aunt
Jose Villa Photography
,
Joel Serrato Films
and
Momental Designs
are members of our Little Black Book, Love what you see? Take a look at their portfolios.

Jose Villa Photography
VIEW PORTFOLIO
Joel Serrato Films
VIEW PORTFOLIO
Momental Designs
VIEW PORTFOLIO
For more information on how Little Black Book Members are chosen click here.